Spam campaign roundup: The Thanksgiving Day Edition
November 26, 2014
---
Thanksgiving day is once again upon us. This also marks the biggest shopping weekend of the year. With consumers gearing up for holiday sale shopping and retailers hoping for an up-tick in business, cybercriminals are also increasing their efforts as scamming, spamming and phishing have become their holiday tradition.
Over the last week, the Dell SonicWALL threats research team has been tracking down all Thanksgiving Day related spam emails.
As Black Friday weekend approaches, we are receiving an increasing amount of this holiday related spam emails. Consumers are spending more time shopping online so cybercriminals have become more aggressive and creative with their tactics. The spam emails have a common theme of trying to lure consumers to click on the links and provide their personal information in exchange for early access to dooorbuster deals or a chance to win cash and gift cards. The following are some of the common email subjects:
BLACK FRIDAY BLOWOUT DEALS: Save up to 92% off!
Get The Cash You Need This Thanksgiving!
Festive Gifts for you - 60- 90% 0ff today.Happy Thanksgiving
Before Thanksgiving Day - Win the lotto [Tousername]
Complete our Black Friday Survey -- for Rewards !
Have a wonderful Thanksgiving with these rewards
Amazing Thanksgiving & Black Friday Sale,87% 0ff,do not Miss
Your Amazon Thanksgiving Gift #9178-942
Unlock Black Friday Deals Now
RE: Purchasing your home for all cash before Thanksgiving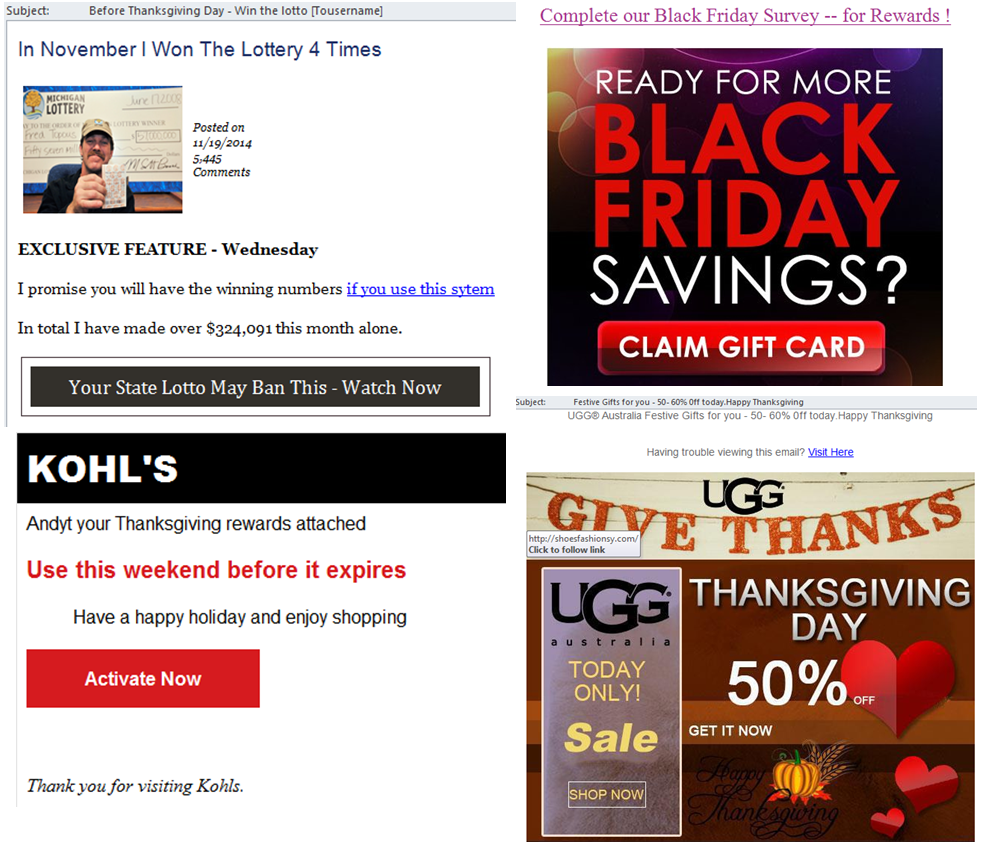 Most of these emails are purporting to come from popular department stores promising gift cards, that when clicked would take you to a URL different from the real merchant's website. The consumer will then be asked to enter their personal information and to participate in a number of "offers" often costing money in fees or subscriptions without the guarantee of ever receiving the products and services or the free gift card at the end of the process.
We urge our users to always be vigilant and cautious with any unsolicited email and to avoid providing any personal information, particularly if you are not certain of the source.
Dell SonicWALL Gateway Antivirus and Email Security service constantly monitor and provide protection against such malicious spam and phishing threats.